THE AMERICAN REVOLUTIONARY WAR OR THE UNITED STATES WAR OF INDEPENDENCE BEGAN IN 1775 AND LASTED UNTIL 1783. THE DECLARATION OF INDEPENDENCE WAS WRITTEN IN 1776.
THE U.S. CONSTITUTION WAS WRITTEN AND ADOPTED IN 1787 AND WAS FINALLY RATIFIED BY ALL THIRTEEN STATES IN 1790.
THE PROCESS OF HANDWRITING THE CONSTITUTION INVOLVES GETTING THE FACTS STRAIGHT AND DOING SOMETHING POSITIVE, GROUNDING AND POTENTIALLY ENCOURAGING.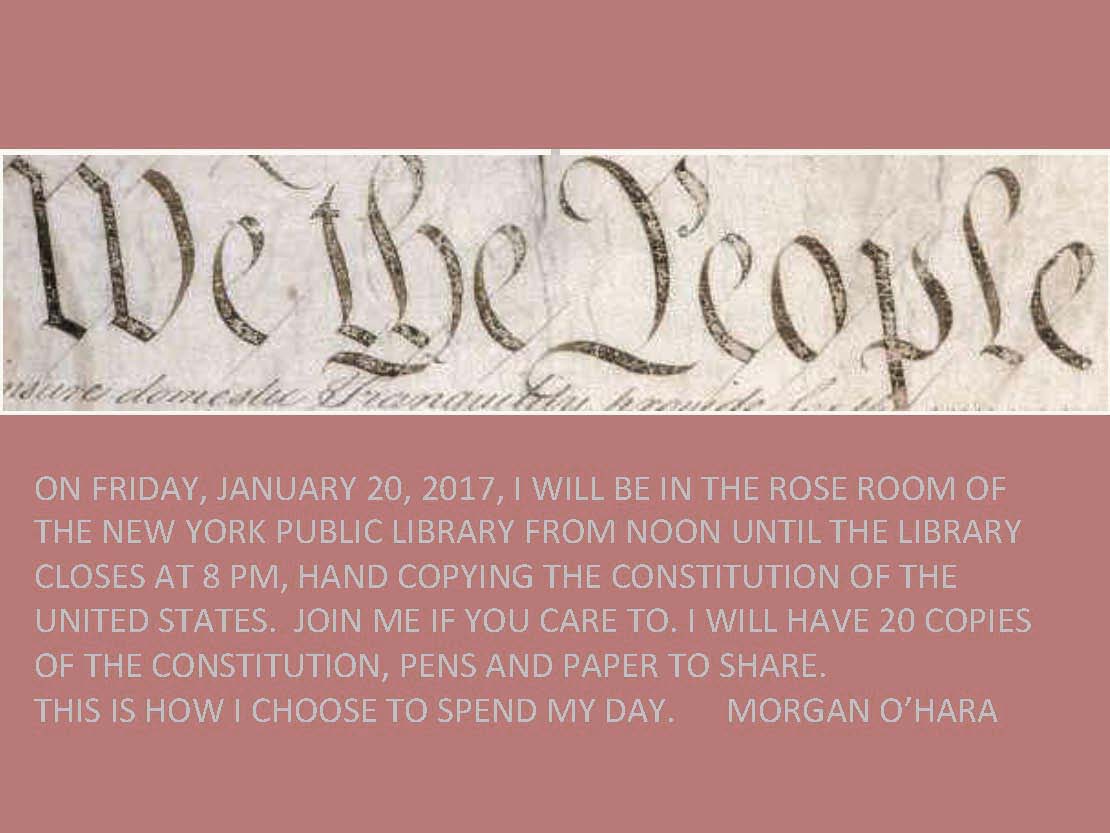 20 January 2017
Inauguration Day
New York city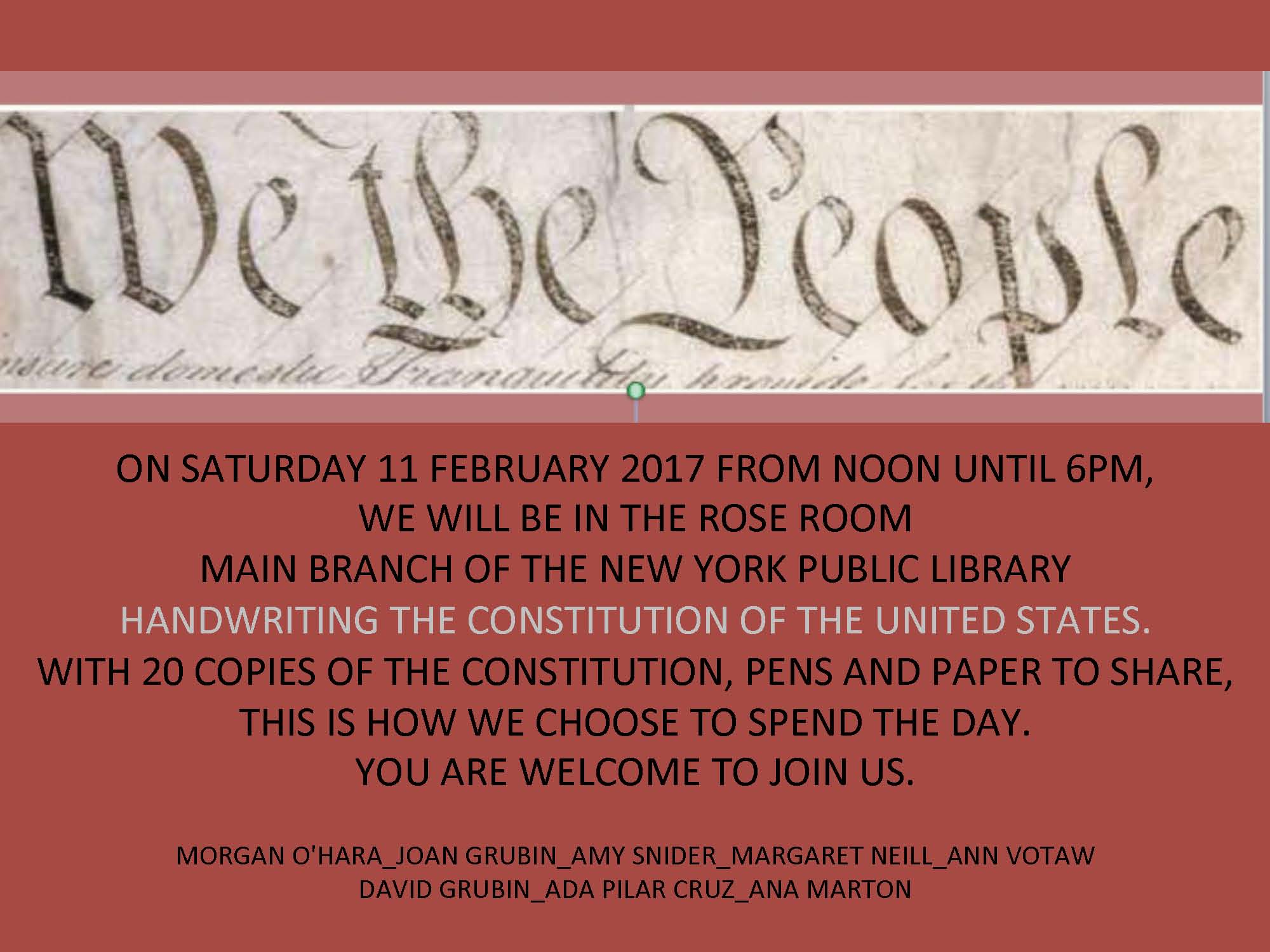 11 february 2017
new york city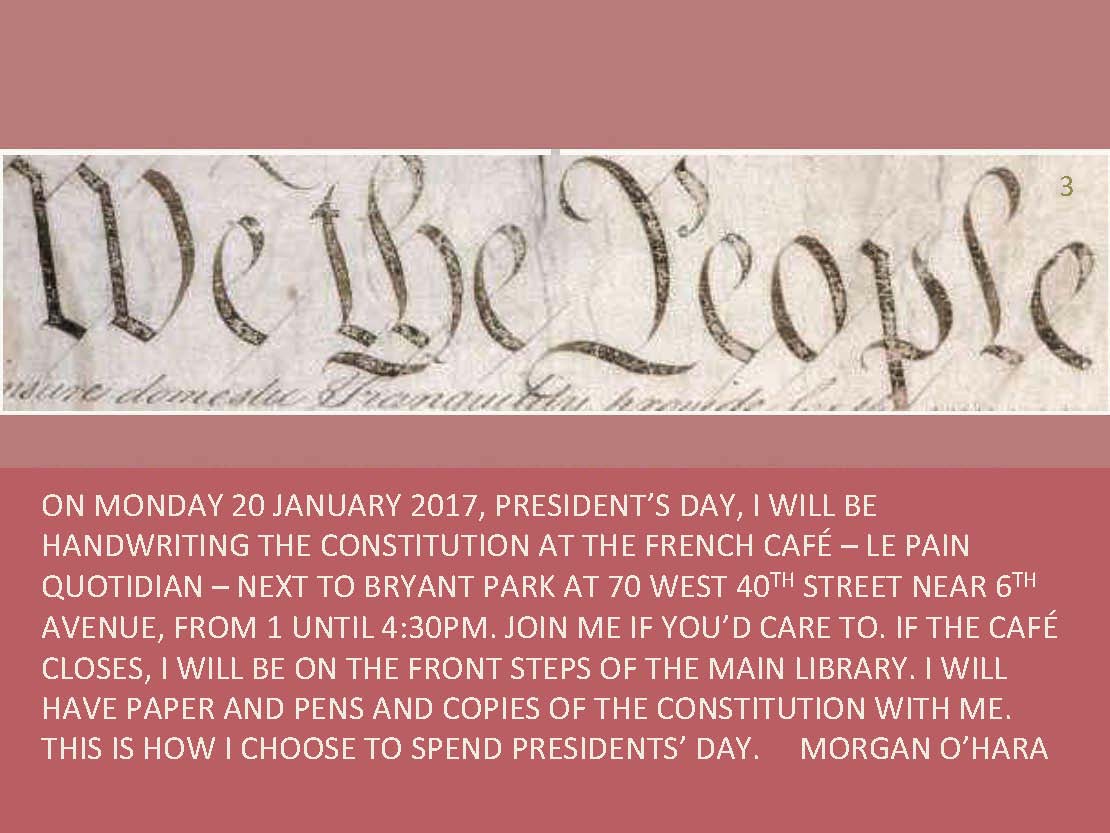 20 february 2017
president's day
new york city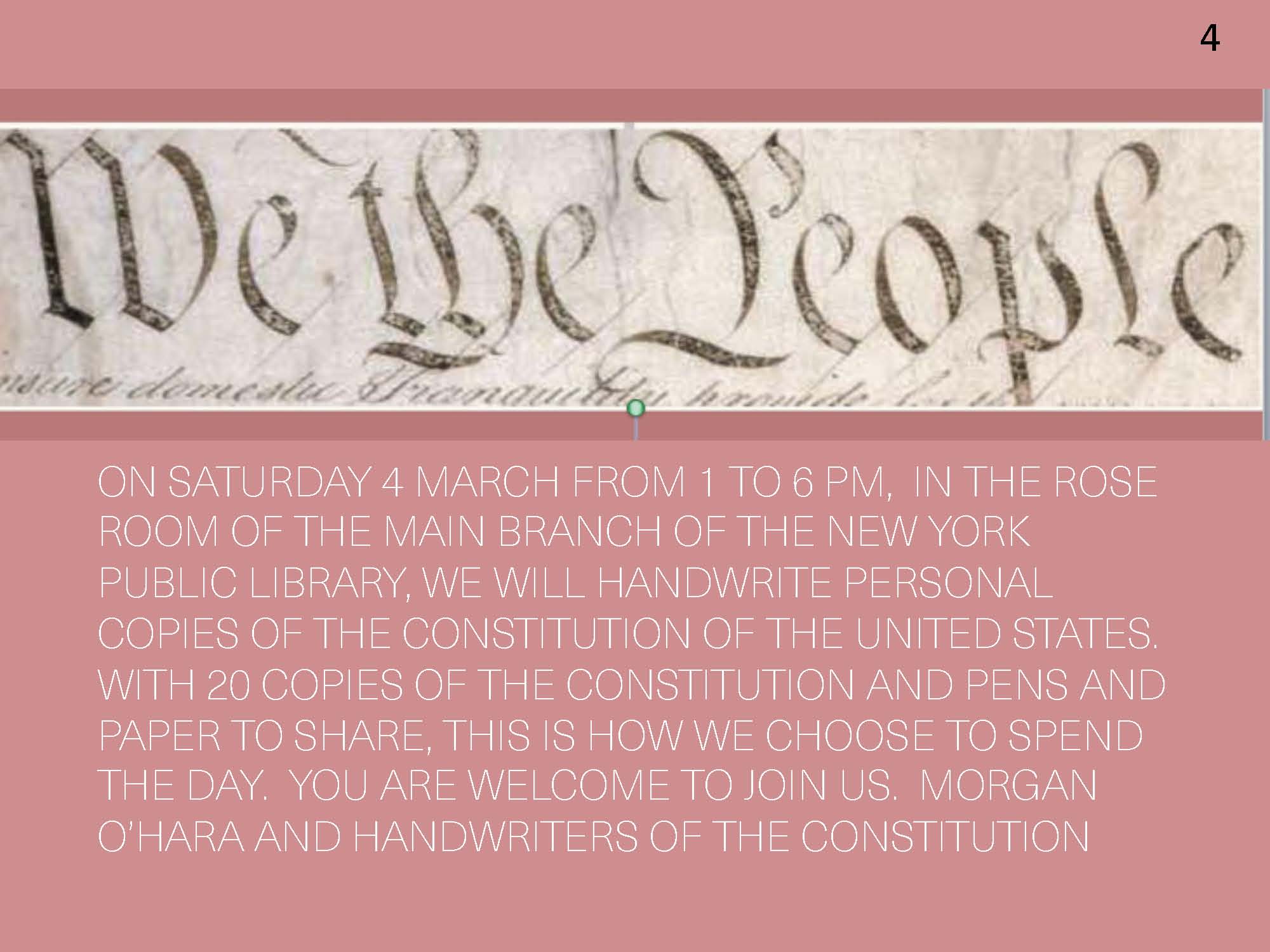 4 march 2017
new york city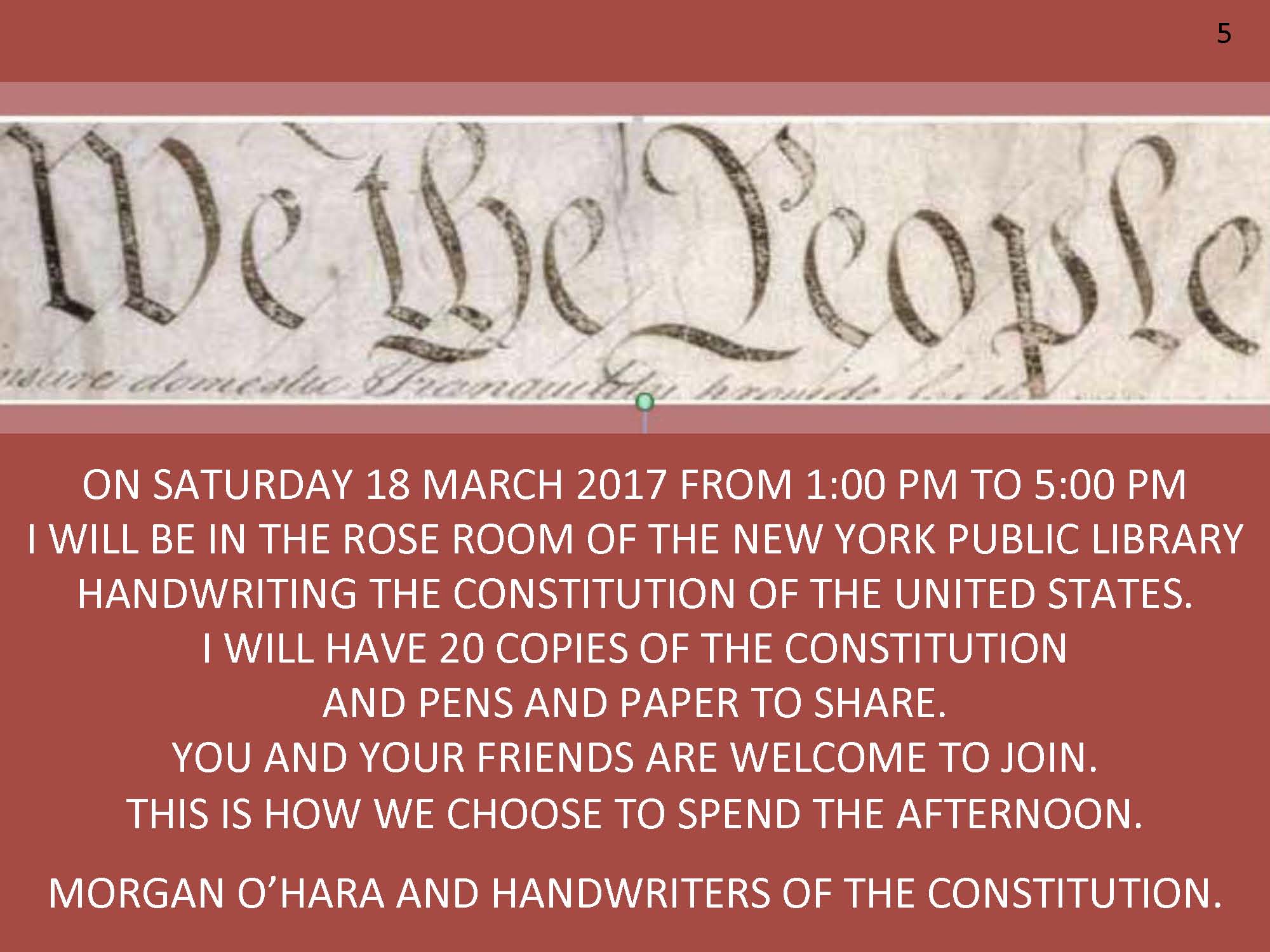 18 march 2017
New York city
8 april 2017
new york city
collaborator ada pilar cruz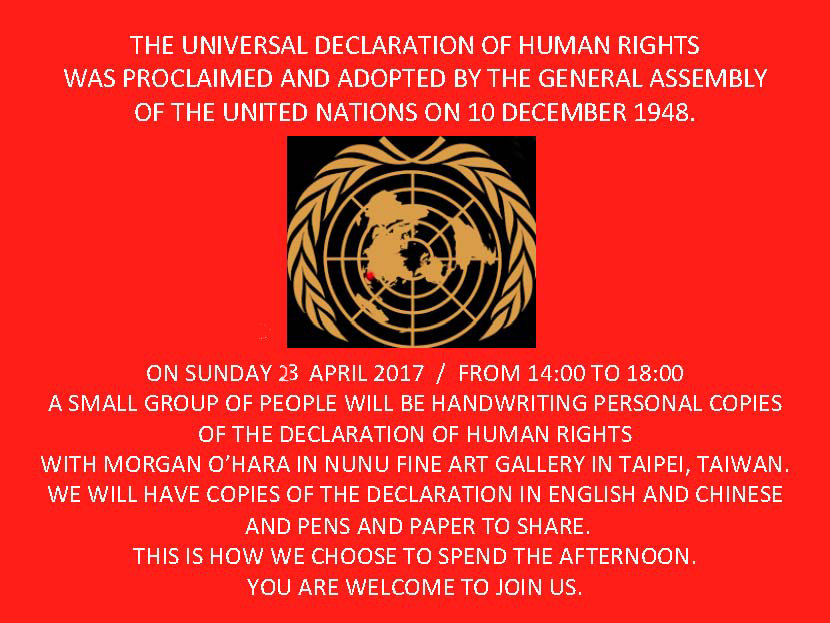 23 April 2017

taipei, taiwan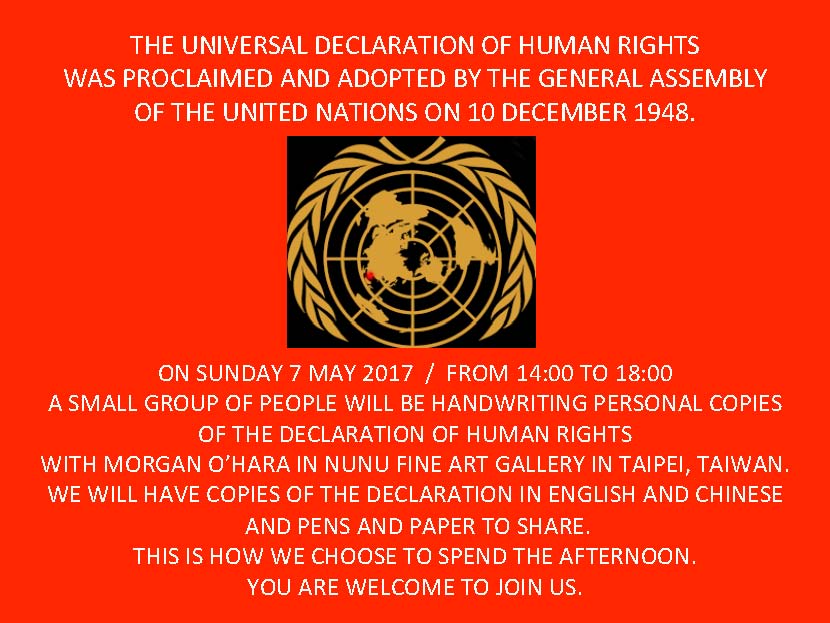 25 june 2017
new york city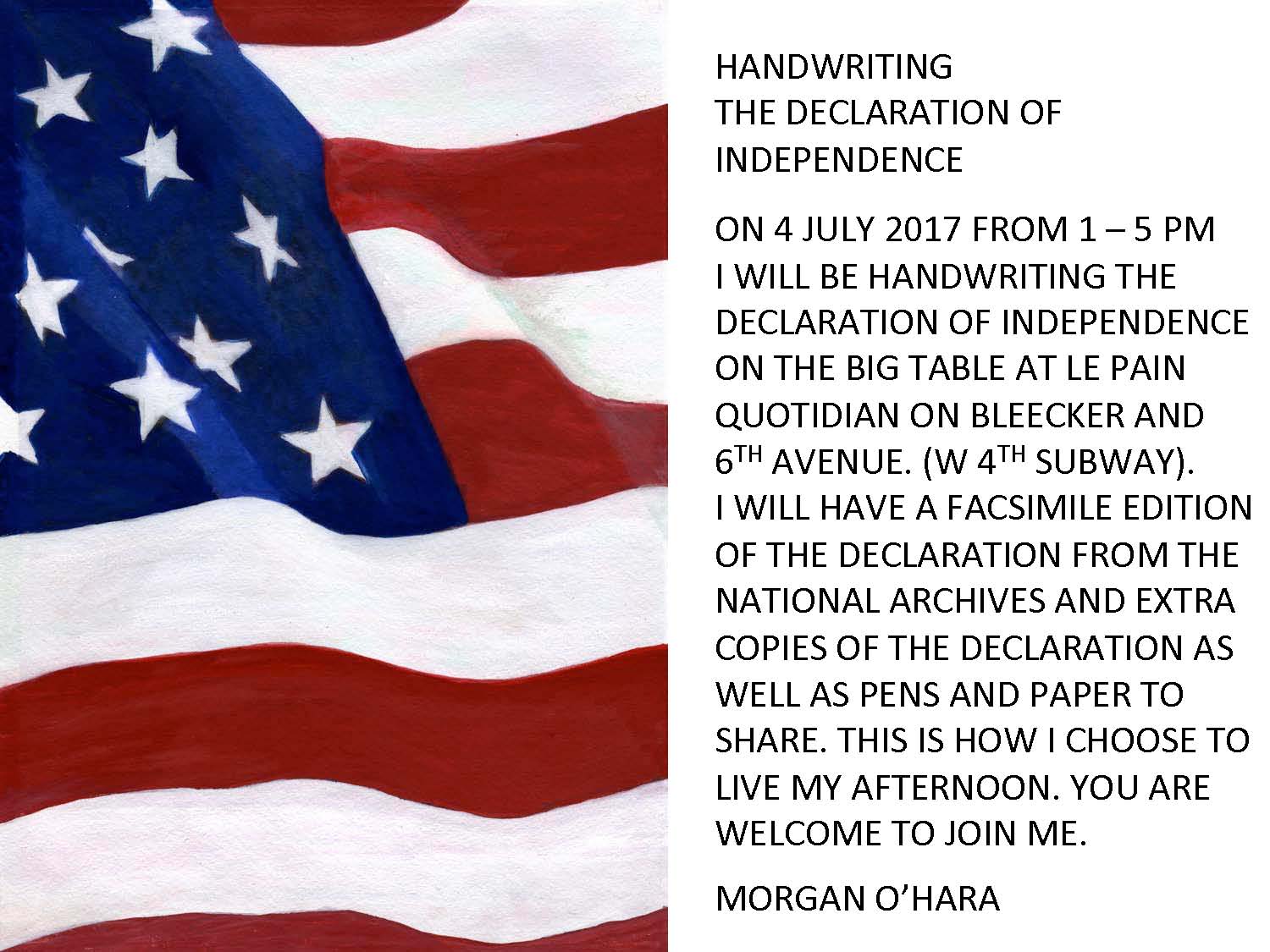 4 july 2017
independence day
new york city
4 july 2017
independence day
san diego, Ca
collaborator Mary Reich Peterson
4 july 2017
independence day
worcester, Ny
collaborator amy brook snider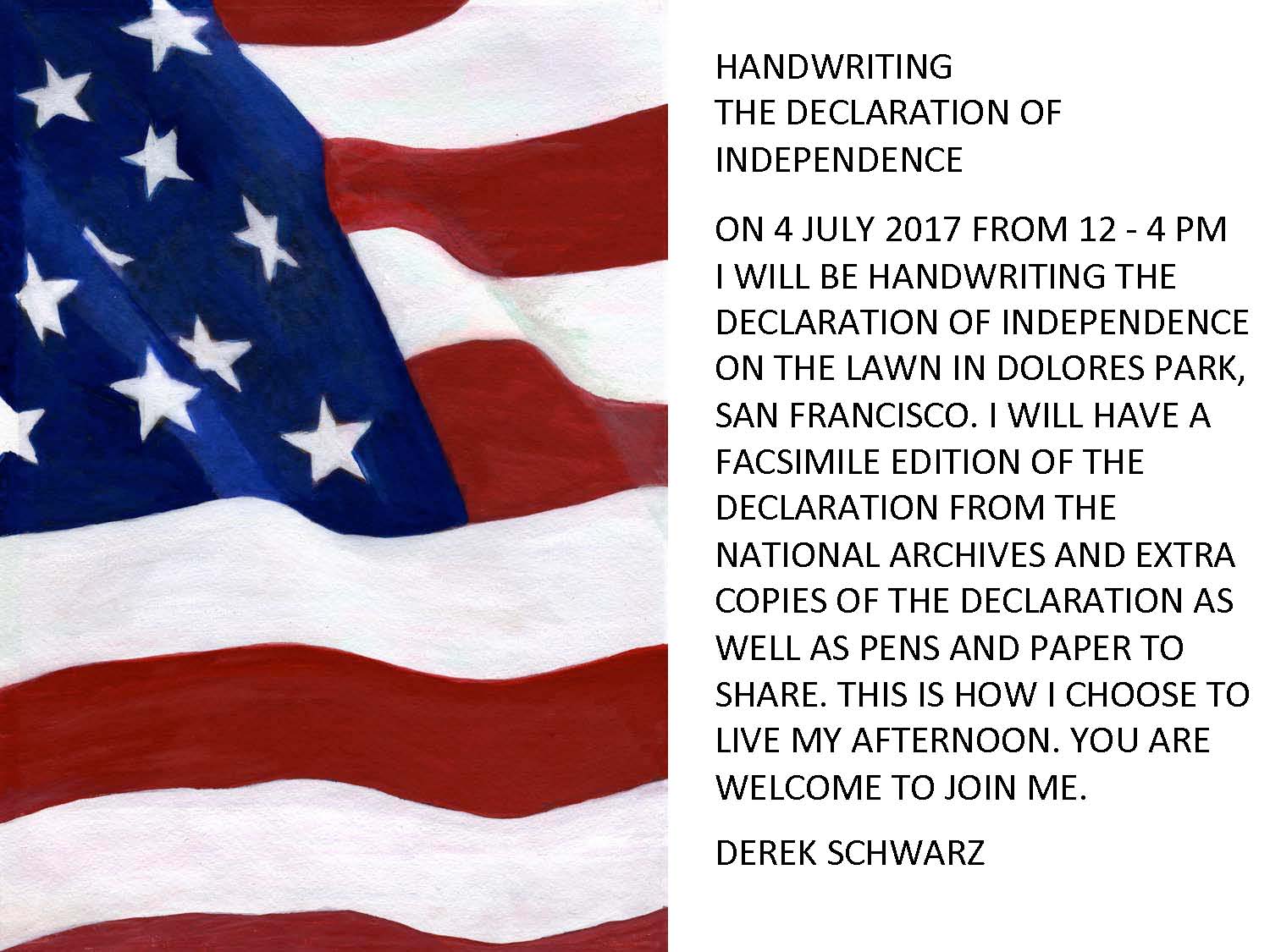 4 july 2017
independence day
san francisco, ca
collaborator derek schwarz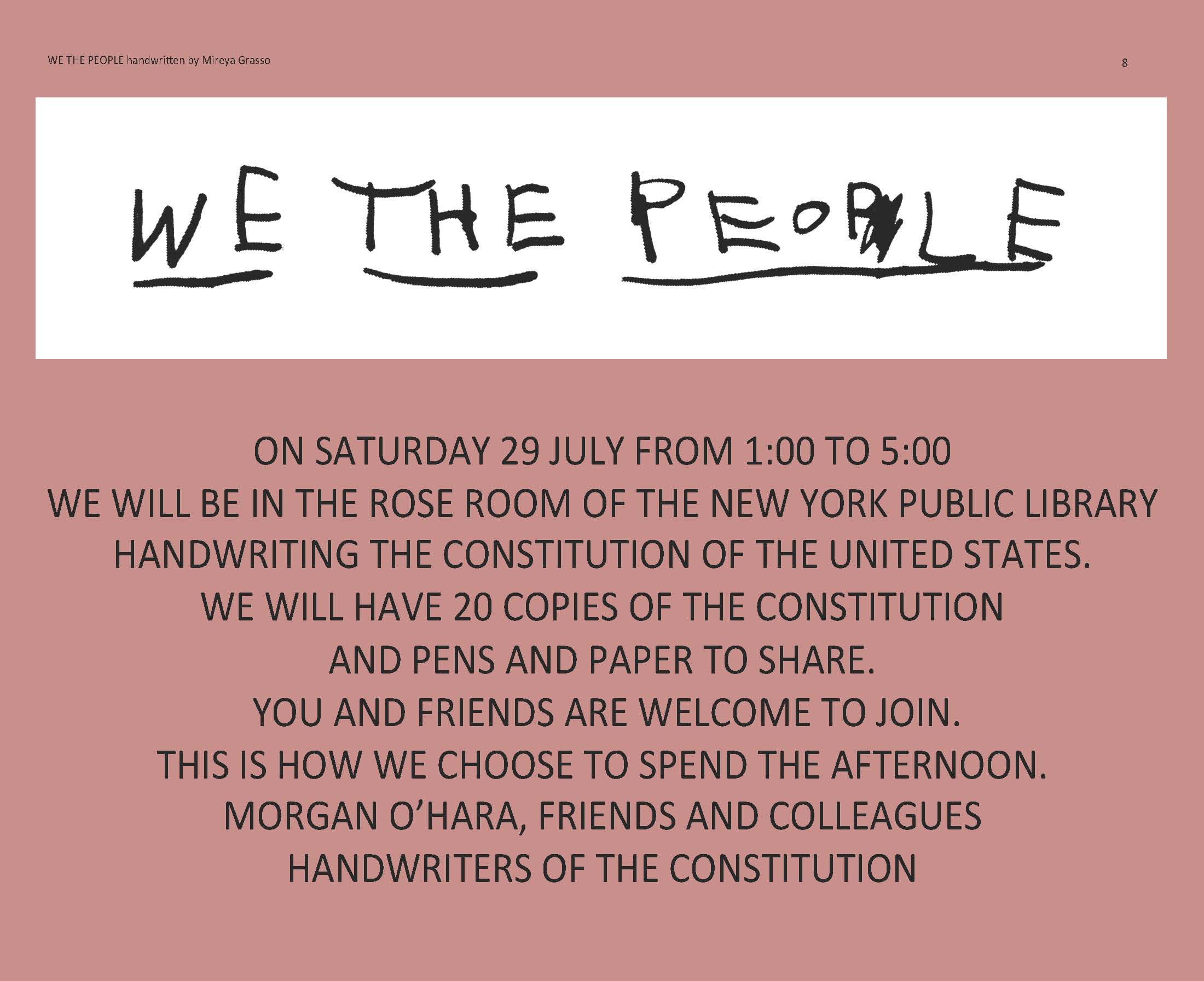 29 july 2017
new york city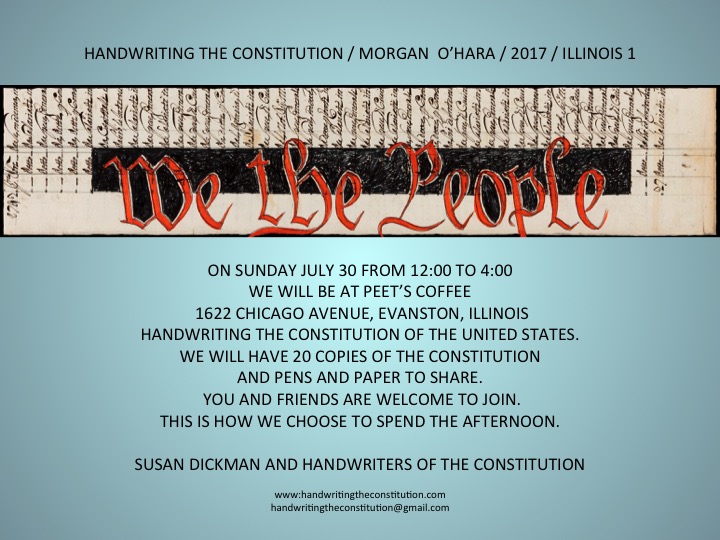 collaborator susan dickman
JULY / AUGUST 2017
New Hampshire STATE CORRECTIONAL FACILITY
6 August 2017
Greenport, NY
collaborator poppy Johnson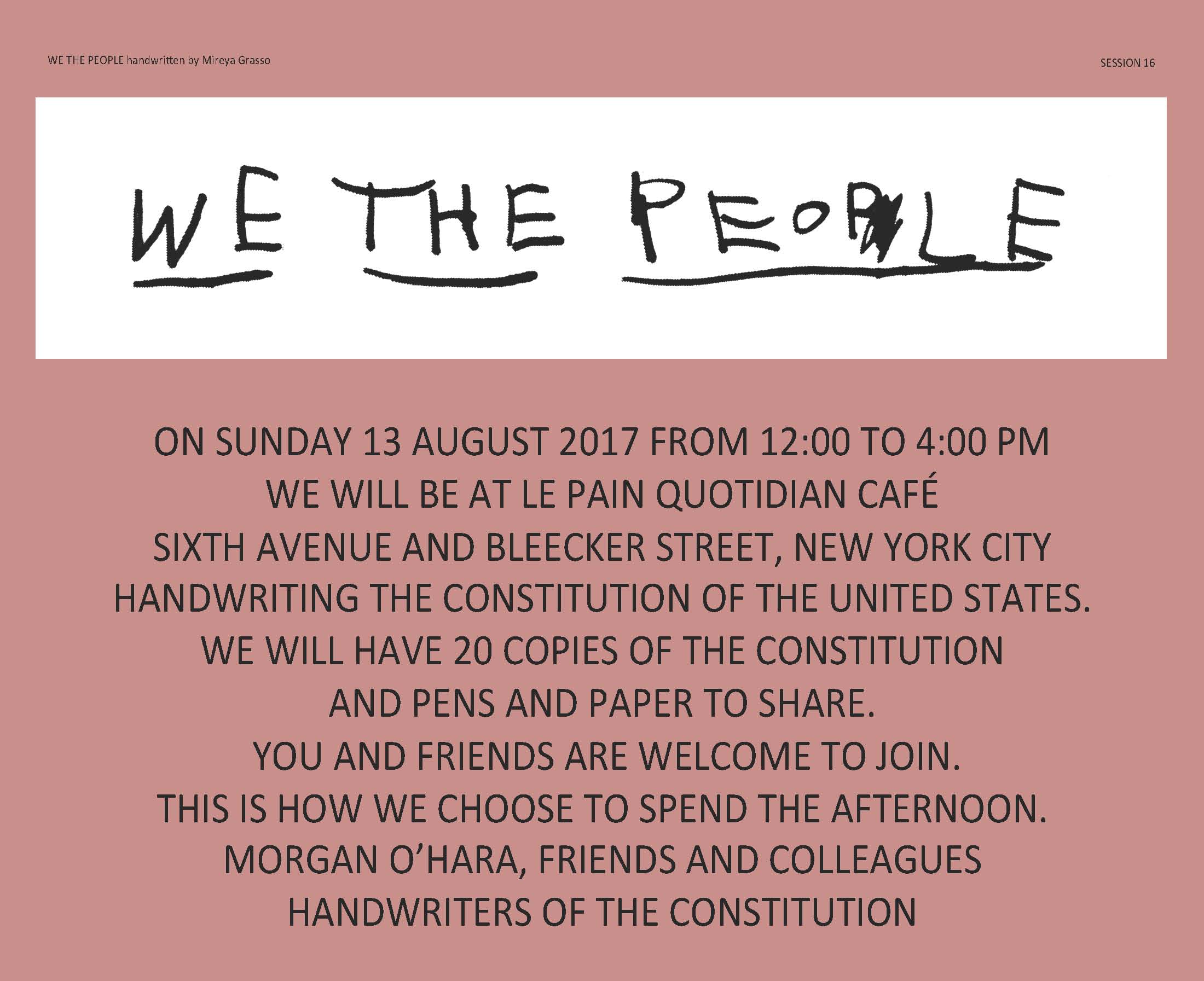 13 AUGUST 2017
NEW YORK CITY
16 SEPTEMBER 2017
BROOKLYN, NY
COLLABORATORS VIRGINIA MANBECK AND INDIVISIBLE HEIGHTS OF RESISTANCE
17 SEPTEMBER 2017
CONSTITUTION DAY
HOUSTON, TX
COLLABORATORs SHINE CHANG AND LISA LINNEY
17 SEPTEMBER 2017
CONSTITUTION DAY
NEW YORK CITY
COLLABORATOR MAYA CIARROCCHI
17 SEPTEMBER 2017
constitution day
PORT JEFFERSON, NY
collaborators joan kiely and
salvatore filosa
24 SEPTEMBER 2017
NEW YORK CITY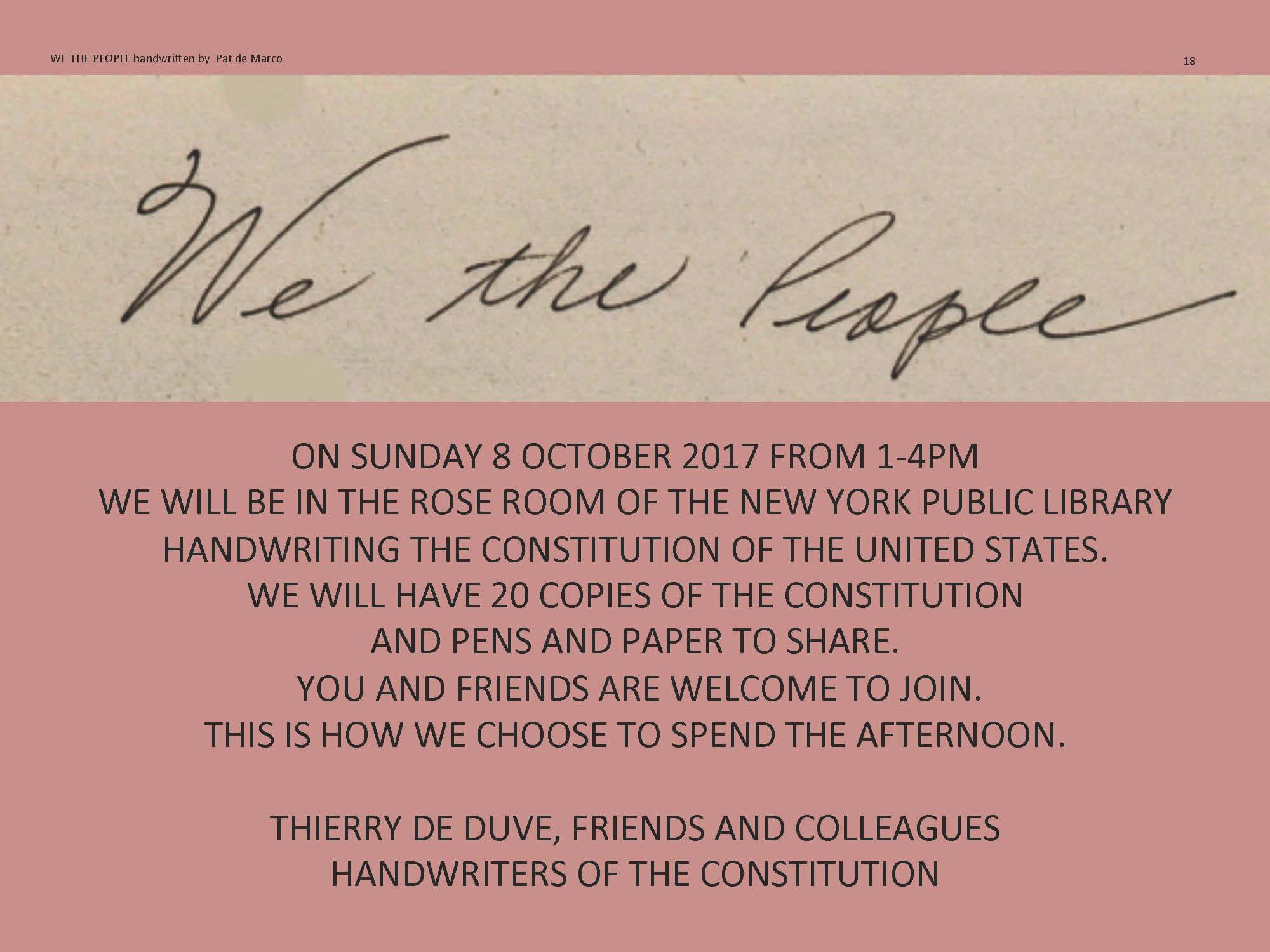 8 OCTOBER 2017
NEW YORK CITY
COLLABORATOR THIERRY DE DUVE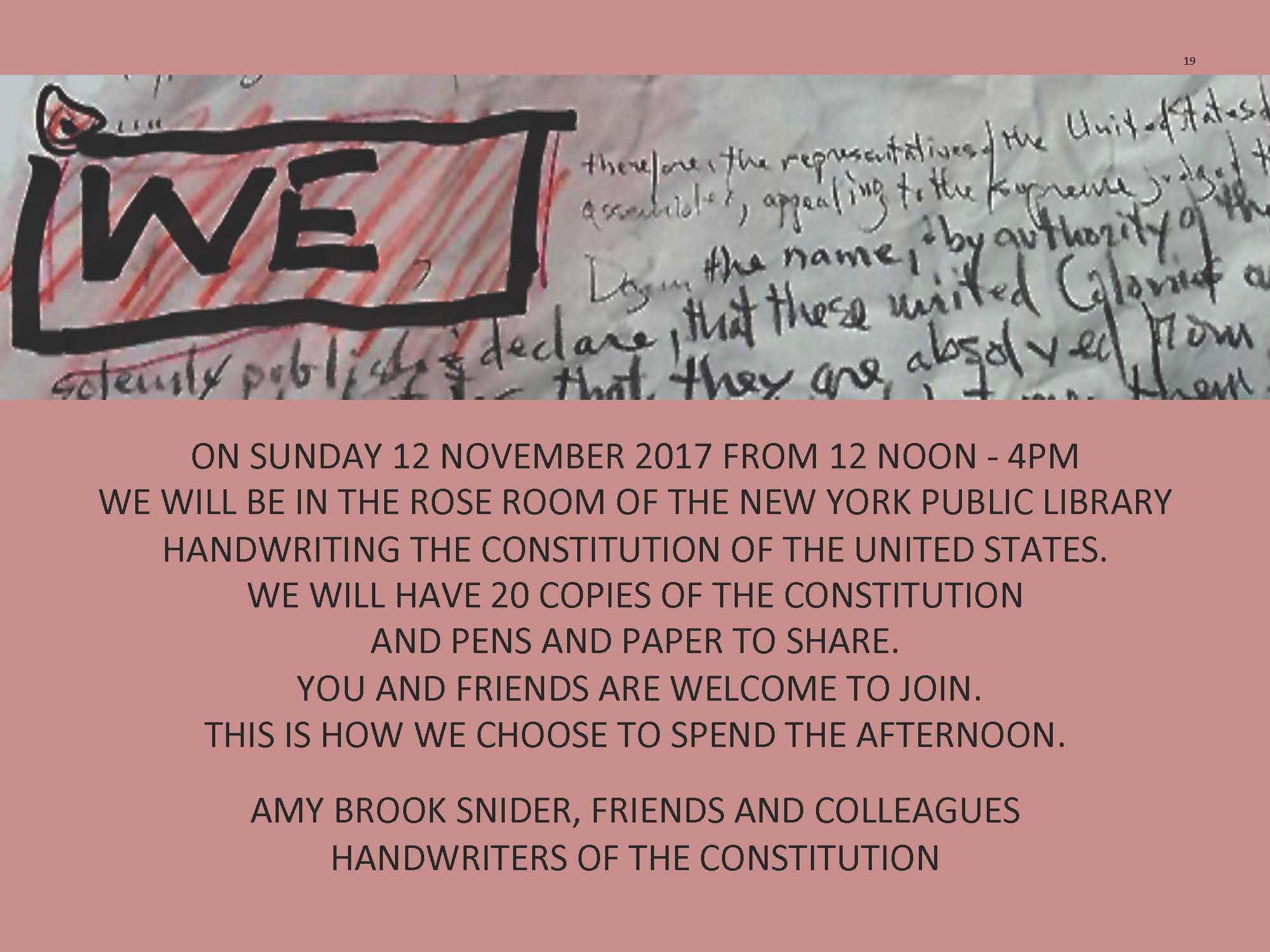 12 NOVEMBER 2017
NEW YORK CITY
COLLABORATOR AMY BROOK SNIDER
16 NOVEMBER 2017
CONCORD, NH
COLLABORATOR LINDA GRAHAM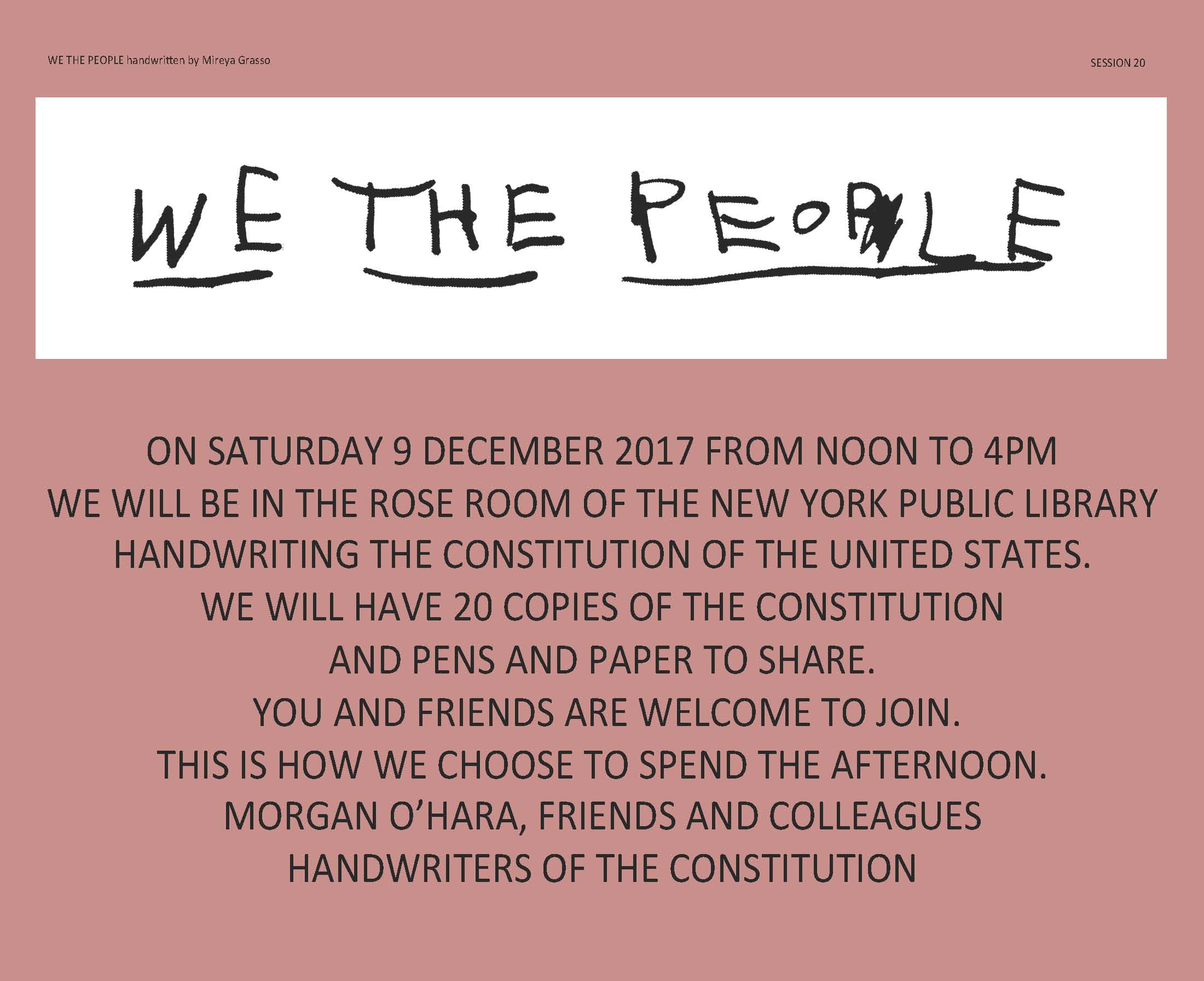 9 DECEMBER 2017
NEW YORK CITY